Estimated Reading Time:
2
minutes
This article explains how to share content when using the Faculty of Dance's Hybrid Kit.
How to share content using Zoom
To share content as a meeting participant, you will need permission from the meeting host.
How to alter sharing permissions as a meeting host
As the meeting host, you can change the limitations on who can share content during the meeting.
To do this, click on the little arrow next to the green "Share Screen" button. Then go to "Advanced Sharing Options". There you can alter who can share content and whether multiple people can share their screens simultaneously.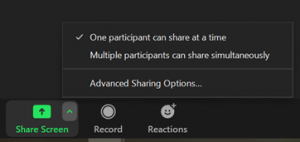 Once this has been changed, participants in the meeting should be able to share their screens. They can then select the page they would like to share with the meeting.
How to share content using Teams
Sharing content on Teams is, in many ways, similar to that on Zoom. You'll need to select the "Share Content" option in the middle of the meeting menu at the bottom of the screen. The icon for this is an arrow pointing into a box. You can then select the window you would like to share content from.
Sharing content using the Hybrid Kit's Macbook
If you decide to share content using the Hybrid Kit, there are several ways you can do this. The Macbook has USB and SD card ports, so you can use your own storage devices to access your files.
Currently, software such as Powerpoint isn't installed on the Hybrid Kit Macbook, so please keep this in mind when preparing to share materials.
Sharing content using your personal device in the Studio Space
You can also choose to share materials via your own laptop or phone, we would recommend doing this if the software required is not supported on the Macbook. Simply join the meeting on your own device and share your screen as you normally would. If you need to share audio select "use system audio".