Estimated Reading Time:
3
minutes
This article is aimed at helping you troubleshoot any problems you may encounter whilst using the Streaming Kits.
Troubleshooting the Streaming Kits
Here are some scenarios where things might not be working, and solutions to help you still deliver your class.
Microphone not working:
 If your microphone is not working there may be several issues. If it is not because the batteries have run out. Here are two, quick workable solutions!
One solution is to use the webcam microphone. To do this, go to Audio Settings and select 'HD Pro Webcam C920' from the Microphone dropdown menu. See below, highlighted in red.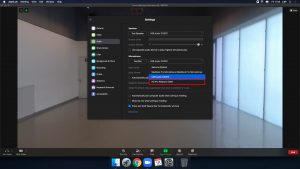 With this method, you can still play back music through the mixer, however, the music will be recorded into Zoom via the webcam microphone, along with your voice.
Another solution is to bypass the mixer, and use the MacBook's built-in microphone. To do so, select audio settings, as before, and then select 'MacBook Pro Microphone' from the Microphone dropdown menu, as shown below.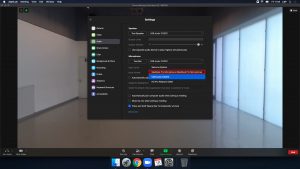 PLEASE NOTE: For this method, you will need to plug back in the studio amplifier's provided RCA to jack cable, using this for your music playing device. See below.
Be sure to turn off the amplifier before reconnecting. Once connected, turn the amplifier back on.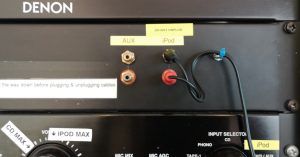 You should now hear your music through the studio PA, and your Zoom attendees through the TV speakers. The MacBook microphone will pick up the sound being played in the studio, and your voice in the space.
Webcam not working:
 If the webcam is not recognised, you can use the MacBook's in-built webcam.
Using the same method to select the Webcam (as seen below), select 'FaceTime HD Camera (Built-in)' instead.