Estimated Reading Time:
2
minutes
*UPDATE: Since 1st of June, Avid has withdrawn their offer for free remote licences and we no longer have any to give out. We are working on alternative ways to provide access. In the meantime, you can either purchase a monthly licence (£8), use the trial version or use an alternative free scoring software such as Musescore.
Who is eligible for the temporary licence?
Any student or staff member currently enrolled/employed at Trinity music faculty can have a temporary 3-month licence.
How to obtain a temporary Sibelius Licence?
Please send an email from your TL email address with the following information:
Subject: Sibelius Licence: [Full Name]
Body: Full Name, Department, Status
See example: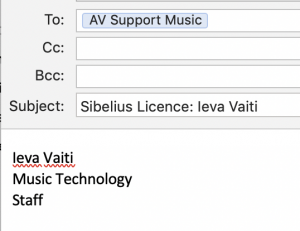 Send this information to avsupport.music@trinitylaban.ac.uk
Please note we cannot accept requests that are not from a TL email address.
We will aim to get a licence back to you within 48 hours.
How to activate the Sibelius Licence?
Create an account using your TRINITY EMAIL ADDRESS on https://my.avid.com/(if you already have an Avid account, please skip to step 2)
Once you have created an account, click on this link whilst logged on http://www.avid.com/redemption
It will ask for a code – copy and paste the code you were given by TL into Avid.
It should activate, after which you can download Sibelius.
Download Sibelius and Install on your computer. (Please note, on some computers double clicking the download file will not work! On Mac: you need to right click and click 'Open' and on Windows you need to right click and click 'Extract all'
When you first open Sibelius, it might ask you to Activate it, if so, click 'Activate' and make sure you are signed in to my Avid on your computer with your Avid account.
Get further support
Having issues that are not explained in this article? Get in touch, details are on the contact page.